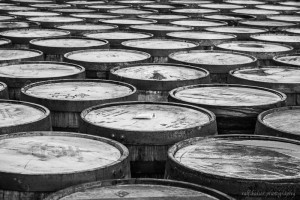 Scotch whisky, often simply called Scotch, is malt whisky or grain whisky made in Scotland. Scotch whisky must be made in a manner specified by law.
All Scotch whisky was originally made from malted barley. Commercial distilleries began introducing whisky made from wheat and rye in the late 18th century. Scotch whisky is divided into five distinct categories: single malt Scotch whisky, single grain Scotch whisky, blended malt Scotch whisky (formerly called "vatted malt" or "pure malt"), blended grain Scotch whisky, and blended Scotch whisky.
All Scotch whisky must be aged in oak barrels for at least three years. Any age statement on a bottle of Scotch whisky, expressed in numerical form, must reflect the age of the youngest whisky used to produce that product. A whisky with an age statement is known as guaranteed-age whisky.
The first written mention of Scotch whisky is in the Exchequer Rolls of Scotland, 1495. A friar named John Cor was the distiller at Lindores Abbey in the Kingdom of Fife.
Many Scotch whisky drinkers will refer to a unit for drinking as a dram.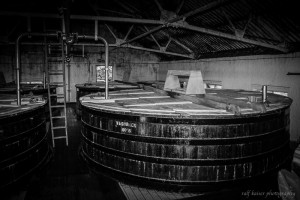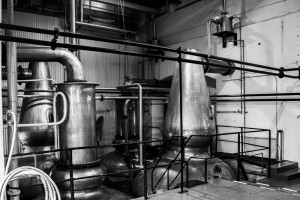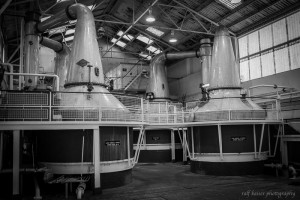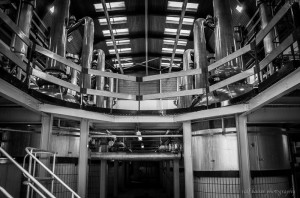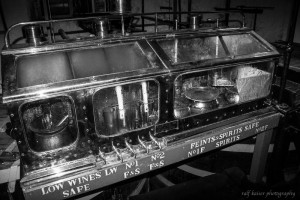 As of 23 November 2009, the Scotch Whisky Regulations 2009 (SWR) define and regulate the production, labelling, packaging as well as the advertising of Scotch whisky in the United Kingdom. They replace previous regulations that focused solely on production. International trade agreements have the effect of making some provisions of the SWR apply in various other countries as well as in the UK. The SWR define "Scotch whisky" as whisky that is:
Produced at a distillery in Scotland from water and malted barley (to which only whole grains of other cereals may be added) all of which have been:

Processed at that distillery into a mash
Converted at that distillery to a fermentable substrate only by endogenous enzyme systems
Fermented at that distillery only by adding yeast
Distilled at an alcoholic strength by volume of less than 94.8% (190 US proof)

Wholly matured in an excise warehouse in Scotland in oak casks of a capacity not exceeding 700 litres (185 US gal; 154 imp gal) for at least three years
Retaining the colour, aroma, and taste of the raw materials used in, and the method of, its production and maturation
Containing no added substances, other than water and plain (E150A) caramel colouring
Comprising a minimum alcoholic strength by volume of 40% (80 US proof)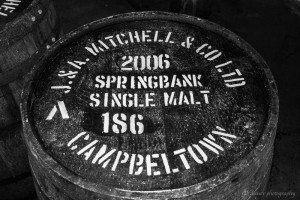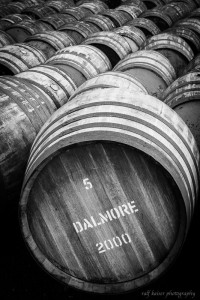 Alcoholic strength is expressed on the label with "Alcohol By Volume" ("ABV") or sometimes simply "Vol". Typically, bottled whisky is between 40% and 46% ABV. Whisky is considerably stronger when first emerging from the cask—normally 60–63% ABV. Water is then added to create the desired bottling strength. If the whisky is not diluted before bottling, it can be labelled as cask strength.
A whisky's age may be listed on the bottle providing a guarantee of the youngest whisky used. An age statement on the bottle, in the form of a number, must reflect the age of the youngest whisky used to produce that product. A whisky with an age statement is known as guaranteed age whisky. Scotch whisky without an age statement may, by law, be as young as three years old. In the early 21st century, such "No age statement" whiskies became more common, as distilleries responded to the depletion of aged stocks caused by improved sales.  A label may carry a distillation date or a bottling date. Whisky does not mature once bottled, so if no age statement is provided, one may calculate the age of the whisky if both the distillation date and bottling date are given.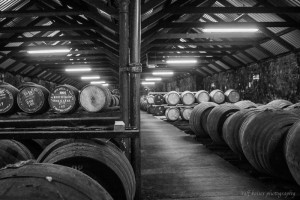 A Scotch whisky label comprises several elements that indicate aspects of production, age, bottling, and ownership. Some of these elements are regulated by the SWR, and some reflect tradition and marketing. The spelling of the term "whisky" is often debated by journalists and consumers. Scottish, Australian and Canadian whiskies use "whisky", Irish whiskies use "whiskey", while American and other styles vary in their spelling of the term.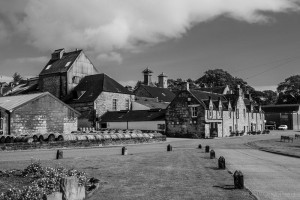 The label always features a declaration of the malt or grain whiskies used. A single malt Scotch whisky is one that is entirely produced from malt in one distillery. One may also encounter the term "single cask", signifying the bottling comes entirely from one cask. The term "blended malt" signifies that single malt whisky from different distilleries are blended in the bottle. The Cardhu distillery also began using the term "pure malt" for the same purpose, causing a controversy in the process over clarity in labelling – the Glenfiddich distillery was using the term to describe some single malt bottlings. As a result, the Scotch Whisky Association declared that a mixture of single malt whiskies must be labelled a "blended malt". The use of the former terms "vatted malt" and "pure malt" is prohibited. The term "blended malt" is still debated, as some bottlers maintain that consumers confuse the term with "blended Scotch whisky", which contains some proportion of grain whisky.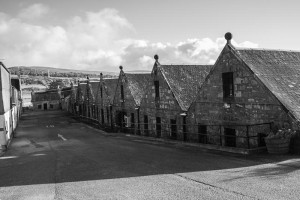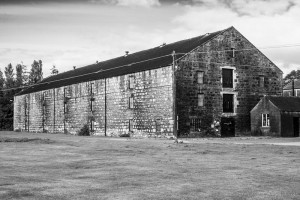 The brand name featured on the label is usually the same as the distillery name (for example, the Talisker Distillery labels its whiskies with the Talisker name). Indeed, the SWR prohibit bottlers from using a distillery name when the whisky was not made there. A bottler name may also be listed, sometimes independent of the distillery. In addition to requiring that Scotch whisky be distilled in Scotland, the SWR require that it also be bottled and labelled in Scotland. Labels may also indicate the region of the distillery (for example, Islay or Speyside).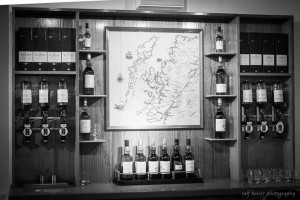 Labels may also carry various declarations of filtration techniques or final maturation processes. A Scotch whisky labelled as "natural" or "non-chill-filtered" has not been through a filtration process during bottling that removes compounds that some consumers see as desirable. Some whiskies are placed in different casks—often sherry or port casks—during a portion of maturation. Since this takes place at the end of the maturation process, these whiskies may be labelled as "wood finished", "sherry/port finished", and so on.
Text by Wikipedia
Pictures by Ralf Kaiser
Calender available: Whisky Calendar